Learn together to live together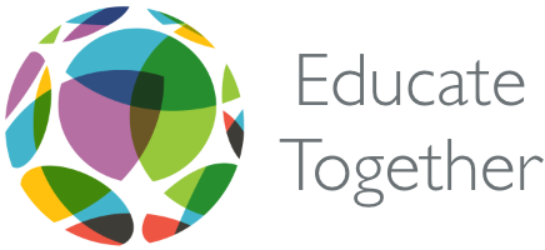 Newbridge Educate Together is a child centred and co-educational primary school. We operate under the patronage of Educate Together. The Educate Together model is founded on a legal commitment to parents, staff and children to run schools based on equality and respect. 
Enshrined in the Educate Together Charter is an obligation to put our students at the centre of everything we do. 
All children have equal access to the school and no one religion or worldview is given priority over another within the school.
All children are encouraged to explore their full range of abilities and are provided with equal opportunities regardless of their gender or identity.
Our child-centred approach means that we put children at the heart of all policies and practices and involve them in decision-making where appropriate.
We run schools on a democratic basis, encouraging active participation by parents and students in the daily life of the school whilst positively affirming the professional role of the teachers.
"There can be no doubt that, as a society, we have travelled far from the Ireland of 1978 when the Educate Together movement first took root. Today, that pioneering vision has taken its rightful place in our education system, growing, flourishing and enabling a further generation of citizens to benefit from the generous and participative ethos which defines Educate Together."
Michael D Higgins, President of Ireland
Educate Together is the patron body of the growing network of equality-based primary and second-level schools in Ireland. It is an independent NGO that runs schools that guarantee equality of access and esteem to children, irrespective of belief system, race, ethnicity, class, culture, gender, language and ability. Educate Together schools are learner-centred and are run as participatory democracies, with respectful partnership between parents, pupils and staff. Today there are 92 primary schools and 17 second-level schools in the Educate Together network. The organisation became a company limited by guarantee in 1998 and has charitable status. It has a national office which provides representative and support services to existing schools and campaign groups. The Board of Directors of the organisation work in a voluntary capacity.
Every school in Ireland has what is known as a 'patron'. The patron is the body that establishes the school, appoints the Board of Management and directs the 'ethos' of the school. School ethos generally refers to the core shared values, beliefs, attitudes and practices of an educational community. For instance, where Educate Together is patron, the ethos of the school is 'equality-based' – no child is discriminated against on the basis of their social, cultural or religious background in either access to the school or within the classroom during the school day.
No, all Educate Together schools are state-funded, national and second-level schools, open to all. Educate Together schools get the same level of funding and follow the same guidelines as any other state-funded school. Our network includes a range of school types from small rural schools to large urban schools. About 20% of the total number of Educate Together national schools are part of the government's Delivering Equality of Opportunity in Schools (DEIS) programme for schools in disadvantaged areas. All children are welcome in Educate Together schools.
No, Educate Together schools are equality-based schools. One specific strand of Educate Together's Ethical Education Curriculum aims to develop in children a critical knowledge, understanding and awareness of the teachings of religious and non-theistic belief systems and how these systems relate to our shared human experience. The Ethical Education Curriculum aims to inform rather than instruct. It teaches children about religions rather than teaching that one is 'the right way to think'. We believe that specific religious formation is the responsibility of parents and religious organisations outside school. Within the school we aim to ensure that no child has to be set apart as a result of their religion. We also understand that many parents want their children to receive formal religious instruction. With this in mind, our school Boards facilitate the organisation of voluntary faith formation classes outside school hours, if requested. These classes are organised with the assistance of the relevant church authorities.
Ethical Education is a key component of the Educate Together model; it's a curriculum that is living in Ireland's equality-based schools and it seeks to offer students the opportunity to meaningfully and critically reflect upon the world around them. 
Ethical Education focuses on questions of equality, justice, sustainability and active citizenship. Educate Together teachers teach Ethical Education as an independent subject at primary (Learn Together)